Cosmic Champs is a real-time 3D tower rush strategy game built on the blockchain. It incorporates a play to earn Game-Fi economy in which nearly all aspects of the game are tradeable NFTs or tokens. The game is set in a futuristic space, in which players pilot ships that carry crew members to battle on faraway planets to earn treasure, blueprints, utilities and more. The game is being developed by Mad Shapes, and they have strong ambitions. They hope to become the benchmark for gaming on Algorand, and to do that they are building with all the considerations a game, not just a blockchain one, needs to succeed.
In this article we'll dive into everything related to Cosmic Champs: the gameplay, the NFTs, the GameFi suite, the token $COSG (ASA 1065092715), the roadmap, and much more.
Cosmic Champs Gameplay
Cosmic Champs is a real time strategy game, which means players have to actively make decisions and react to their opponents. The format is a winner takes all tower rush battle, in which you are trying to destroy your opponent's base before they get yours, all within the time frame of three minutes. Win and receive treasure, lose and go home empty handed.
In order to battle, players have to construct a deck which consists of trading card champs, buildings, and utilities which they will use to fight. There are elements of randomness surrounding which cards are drawn to a player's hand, but beyond that it is primarily strategy based where you have to balance energy generation, offense, and defense.
There are two game modes we can expect to see, PvP (player vs. player) and PvC (player vs. computer). There will also be tournaments which can be hosted by the owner of Planet NFTs.
Cosmic Champs NFTs
The Cosmic Champs ecosystem will have six types of NFTs, which we will touch on. These are: Champs, Planets, Ships, Blueprints, Treasures, and Utilities. They will use fractional NFTs which can be learned about in detail here and in the whitepaper, but the basic idea is that the rarity of each component of an NFT can affect both its appearance and statistic.
Champs
To no one's surprise, Champs are the centerpiece of the Cosmic Champs game. The traits each champ has will reflect their statistics and strength (health, attack, damage, hit speed, movement speed, etc). Champs will be season based, with each season bringing new champs and strategies to utilize them. Champs will also have two major categories: standard champs and NFT champs.
Standard champs will be off-chain characters that have the same appearance, statistic, and an infinite supply. NFT champs will be on-chain, have comparatively enhanced statistics, different appearances, and a limited supply. Both types of champs will be upgradeable and useable in play-to-earn arenas, and they can even be used together. The Cosmic Champs white paper maintains that Cosmic Champs will always be free to play. They provide a comparison of the two types below:
This answers an important question: you do not need to purchase anything to play the game. You will not even need an Algorand wallet to play. The viability of playing without NFTs remains to be seen, but the Cosmic Champs team are building with game to be open and accessible, with the potential to serve as a funnel for users into the Algorand ecosystem.
NFT Champs will have up to 9 traits, all of which will contribute to the rarity, visual appeal, and in-game statistics of that Champ. Season 1 (Genesis) will consist of 8 different champs of which 50-150 copies will exist. This will continue to increase in later seasons.
Planets
Planet NFTs are where play-to-earn arenas and tournaments will be hosted. In the first two years, a maximum of seven total planets will be released. They will all host the same amount of battles per day, and earn income based on the battles that happen. While players are doing battle in the planet's arenas, they will be able to "mine" a planet's resource using their NFT ships.
Ships and Blueprints
Ships will serve as a player's home base, and will be how they travel from planet to planet. They will enhance Champs, increase $COSM rewards from battle, and mine natural resources which can be exchange for blueprint NFTs. Ships will be necessary for travel, though a starter ship will be provided to maintain free to play usability. As seen below, the starter ship will lack many of the benefits an NFT ship will have.
Once a player has mined enough steel chip resources, they can exchange it for an NFT blueprint which can be used to mint a new ship.
Season 1 will see the release of two types of ships and up to 300 copies, with this number increasing significantly over the next couple planned seasons.
Utilities
A player's success in battle will rely largely on the usage of Utility NFTs. These will include magic, instant effects, and buildings.
Treasures
Treasure NFTs will be awarded for tournament victories and other accomplishments.
NFT Staking, Loaning and Marketplace.
Cosmic Champ NFTs will be able to be staked for rewards. This is the extent of the information currently available.
There will be a built-in aspect of Champ lending, where players can loan out or borrow champs for use on the battlefield. This infrastructure will be built-in to protect NFT owners and players.
Players will be able to buy, sell and trade Cosmic Champs NFTs on a game-exclusive marketplace using $COSG. They plan to build this market place with a small royalty fee that will be used for the community treasury.
Cosmic Gold ($COSG) and Cosmic Matter (COSM)
Cosmic Gold, Cosmic Matter, and steel chips will drive the Cosmic Champs Play-to-earn economy. Both COSG and COSM will be on-chain assets, while steel chips will be off-chain.
Cosmic Gold (ASA 1065092715)
Cosmic Gold will be the governance token of Cosmic Champs and the secondary play-to-earn token. In game, $COSG can be earned by winning battles and completing tasks. $COSG can be used to earn staking rewards, enter NFT prize games, mint ships, and participate in the governance and direction of the game.
Cosmic Gold yLaunch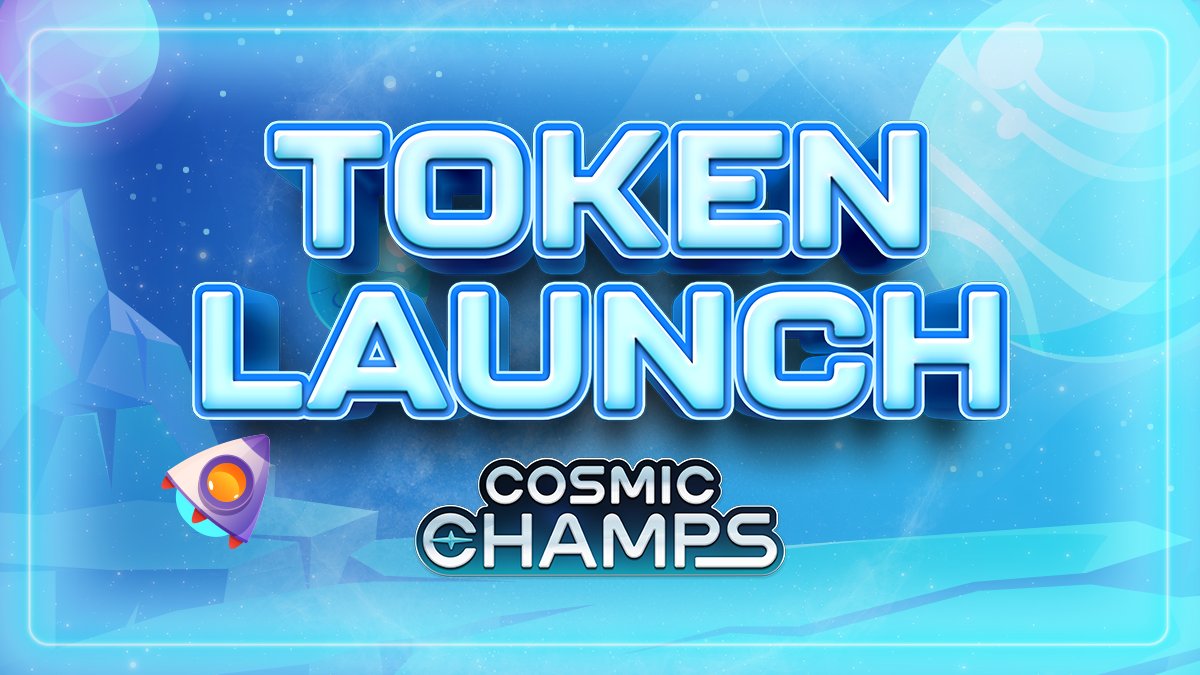 Excitingly, Cosmic Gold will be the first product being launched by Yieldly's new yLaunch incubator on April 21st. This will be the first time you can obtain $COSG. Yieldly is the first DeFi suite on Algorand, and if you are not familiar with them you can learn more here.
The pools that launch will be a:

$COSG -> $COSG staking pool: stake $COSG to earn $COSG
$YLDY -> $COSG staking pool: stake $YLDY to earn $COSG
$COSG/$YLDY Liquidity Token -> $YLDY staking pool: stake liquidity provider tokens created on a decentralized exchange to earn liquidity
With asset staking, your principal is not at risk. The only way it can be lost is through protocol exploits; which while possible, have thus far been reimbursed fully by both Yieldly and Tinyman.
Cosmic Matter (COSM)
Cosmic Matter will be the main reward token for the Cosmic Champs game. The reward paid out will be stable and based off USD value so players are accurately able to calculate how much value can be earned. If the price increases, less tokens will be paid and if the price decreases, more will be paid.
Cosmic Matter will be used to enter tournaments, upgrade champs, and buy blueprints. The amount of COSM that can exist will be infinite, but use of COSM will also burn it. This will have a balancing affect on the supply. In this context, COSM will act more like a resource than a currency.
COSM will launch in Q3.
Cosmic Champs Roadmap
At the time of this article, Cosmic Champs is at the perfect stage to start keeping up with. As mentioned before, April 21st is their inaugural launch date for governance token $COSG with the Yieldly Launchpad. Afterwards, we can look forward to staking rewards and the reveal of Season 1 NFTs. We will get to see what the champs and ships look like and decide whether or not to purchase some. The end of Q2 should hopefully bring about the beta launch and transition into the full game with Q3.
Cosmic Champs Safety Check
An unfortunate reality of the blockchain space is that not all projects are trustworthy. While it is impossible to know with complete certainty exactly how legitimate a project is, there are some critical checks we can make to reduce the odds of participating in another Anirand.
Dox Check: The Cosmic Champs team is doxxed. There are links to their LinkedIns in the whitepaper, they have done multiple interviews with KryptoNurd and others, and have posted many pictures on twitter of their team at Algorand related events.
Reputable Partnerships: Cosmic Champs has some well known backers and reputable partners. For starters, being the first project going live with Yieldly's launchpad is very reassuring. They have backing from Borderless Capital, and are listed as being partners with a handful of different venture initiatives.
High Effort Website + Whitepaper: Cosmic Champs has both of these. Their whitepaper may be the most detailed one I've read, which is reassuring given the scope of the project they are attempting to tackle. It is clear a lot of thought has gone in to every aspect of the game and economy, something that projects which rug are usually lacking.
Ultimately, I do not believe there is much more Cosmic Champs could do to prove their validity. Always do your own research on projects before deciding to trust them, and you can check out their socials here:
Cosmic Champs Twitter
Cosmic Champs Discord
Cosmic Champs Telegram
Read More & Support the AlgonautBlog
That's all for now, I suspect I'll be writing more about Cosmic Champs in the future. If you enjoyed this piece and want to read more, consider following me on Twitter @algonautblog to stay updated on new posts.
If you like Algorand Gaming, I recommend reading about Alchemon.
If you're interesting in Passive Income, read the Best Sources of Passive Income on the Algorand Blockchain.
Thanks for reading, and stay safe!