TacoCoin ($Tacos ASA ID: 329110405) is a cryptocurrency built on the Algorand Blockchain that will be used to save on transaction costs at a Taco Food Truck business, Dora's Tacos. The name TacoCoin may make an initial reader assume that it is a memecoin, but the reality is quite far from that. I first heard about them through a reddit airdrop on r/algorand 6 months ago, and I didn't register since I too assumed it wouldn't amount to much, plus ASAs weren't very popular then. Since that post, I've continued to see the effort Dora, Dustin and the TacoCoin team have put into their food truck business and have been impressed time and time again by the community they've created around it. TacoCoin isn't some coin that promises to shoot to the moon and make holders millionaires. Rather, it will be used for discounted payments for one very simple yet beloved thing: Tacos.
TacoCoin Overview
The use case of TacoCoin is extremely simple. Credit Card vendors skim money off the top of each payment, which can be particularly damaging to small businesses. They also have non-immediate finality and can take time to go through. In contrast, because TacoCoin is built on the Algorand Blockchain it has the benefits of microcent transaction fees, immediate finality and <4 second transaction times. Using TacoCoin benefits Dora's tacos, who can then pass these savings back on to the customer. Thus, TacoCoin's use case lies in the simple utility aspect of being able to purchase Tacos at a discounted rate.
TacoCoin will be accepted at all their foodtrucks, the first of which has been purchased and is in the process of being set up. Their plan is to start serving food in Spring of 2022, and their first location will be based out of a lot in Iowa. They will serve street tacos, burritos, pozola & tortilla chips, beans and drinks. They will have vegan/vegetarian options as well.
After their opening, they plan to work towards growing merchandise sales and expanding their food menu. Eventually, they hope to have multiple trucks around the country serving tacos, engaging with communities and continuing to scale.
TacoCoin Community
If there is one thing the TacoCoin team has a done a phenomenal job with, it has been the community they have cultivated. Their reddit, discord and telegram chats are constantly buzzing and filled with people who are simply there out of an appreciation for tacos. Everyone is friendly, and I've really enjoyed interacting with this community. It's filled with people who have been around Algorand for a while, and are supporting a simple yet passionate project.
Beyond their active community, TacoCoin has a vast array of partnerships with various ASAs and projects on Algorand. They're on Tinyman, AlgoDex, PactFi, AlgoStake and more. They have multiple liquidity pool partnerships, recent ones include the BirdBotASA and BoardAlgo.
Purchasing and Obtaining TacoCoin
TacoCoin can be swapped for on Tinyman, AlgoDex, and PactFi. Ensure that the coin you are swapping for has the ASA ID: 329110405 and a blue verification check mark in order to avoid purchasing a fake/scam coin.
TacoCoin on AlgoStake
There are currently three pools active on AlgoStake which can reward stakers with TacoCoin. Two of them are Liquidity pools, requiring equal parts Tacos and Algos/STKE and paying out rewards in $Tacos at the designated APR. Liquidity pooling is an important part of any ASA's ecosystem, and can be very lucrative. These rewards are paid out on top of the transaction fees liquidity poolers currently earn. That said, LP pooling is not without risks, and users should absolutely learn more before deciding to participate. More information about liquidity pooling and the risks of it can be found here.
The second pool is a $Tacos to $Tacos pool. Simply connect a wallet with a minimum balance of 1,000 $Tacos, and you will begin earning rewards just from holding and staking them. The $Tacos never leave your wallet. The current APR for this is ~33%.
Taco Tokenomics
TacoCoin's total supply is 10 billion. With a price of $0.00001338 (Feb 28th, 2022), this puts TacoCoin's fully diluted market cap at $133,798. According to the TacoCoin team, the circulating supply is 50%, which puts the market cap at ~$66,000.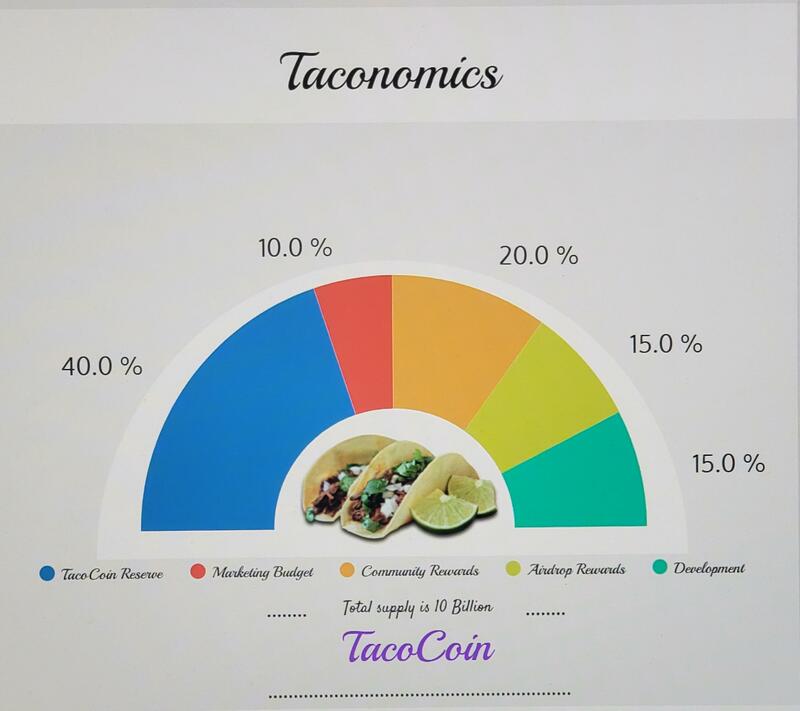 TacoCoin Reserve (40%)
TacoCoin Marketing Budget (10%)
TacoCoin Community Rewards (20%)
TacoCoin Airdrop Rewards (15%)
TacoCoin Development (15%)
Learn More About Algorand
If you enjoyed the piece and want to read more, consider following me on Twitter @algonautspace to stay updated on new posts or supporting the blog.
If you're interesting in Passive Income, read the Best Sources of Passive Income on the Algorand Blockchain.
Other recent posts I've written include What is Ocean Conservation Project AlgOcean?, AKITA INU ALGORAND: The Community's Token, and What is Headline? Algorand's Ecosystem Builder.
Thanks for reading, and stay safe!