Headline Inc ($HDL): What is it?
It's not easy to narrow down Headline to a single descriptor, but Founder Aaron Martinez described it as an "Ecosystem builder… where they're touching basically every aspect of the blockchain space" in an interview with The Crypto Hour. That makes Headline unlike almost any other group in the Algorand community, as they're going full steam ahead at a whole host of different projects and making great progress at the same time. They aren't exclusively focused on any single thing, but are building to meet the growing demands of Algorand's DeFi space.
That makes Headline a little bit difficult of a group to stay up to date with, but that's what I'm here for. In this article, we will cover: Where to buy $HDL? $HDL Staking on Yieldly, Pipeline.ui, AlgoPay, AlgoCloud, Dispatch Media, Headline Grants, Forum, and $HDL Tokenomics. This may end up being just part 1 of a multi-part series.
Where can you buy Headline ($HDL) on Algorand?
Buying $HDL, like just about any other ASA, can be done on Tinyman. If you're unfamiliar with Tinyman, click here. The price of $HDL is currently fluctuating around $1, but that is extremely subject to change. You can view the updated price here. Ensure that when swapping for $HDL the asset ID is 137594422 and that it has the blue verification check mark.
Headline ($HDL) Staking and Liquidity Pools
Staking on Yieldly is another great way to obtain $HDL without needing to buy it. As of Feb 10th 2022, three new pools are launching on yieldly.finance, which means three new sources of passive income related to $HDL.
$YLDY -> $HDL pool
Launching Feb 10th, you will be able to staking Yieldly's native token $YLDY for $HDL in a teal 5 auto-compounding pool. While the APR has not been revealed yet, we can expect it to settle somewhere between the 25-50% range depending on how many tokens are provided and how many community members stake for it. More information about staking can be found here.
$HDL -> $HDL pool
In this pool, you will be able to stake $HDL for more $HDL. The apr for these pools tend to be a bit higher than the Yieldly pools, as most consider Yieldly to be a safer store of value than other ASAs, something that has been a bit questionable as of late. This pool will be open for 30 days.
$YLDY/$HDL LP Token-> $YLDY pool
The third and final pool being launched requires Liquidity Pool tokens which are acquiring by providing liquidity for both $YLDY and $HDL on Tinyman. These pools tend to yield the highest cumulative reward as you earn both Tinyman transaction fees and ~60% APR in $YLDY tokens but you are exposed to the highest risk, including impermanent loss.
Note: As always, whether you are looking to buy, stake, or LP anything DYOR! Not financial advice.
Headline Inc Projects and Use Cases
There are so many projects to mention that devoting an individual section to each one would fill up pages of this blog. Instead, I will provide a brief description of each project and follow-up with a deeper dive at a later time.
Pipeline.ui
Headline's Pipeline project creates an ecosystem of tools that allows developers (regardless of skill level) easier integration into the Algorand Blockchain1. It is a "ready-to-use library to rapidly add standardized Algorand functional components to your React apps"2. The project is seeking to address the fact that everyday transactions have not seen widespread crypto adoption, part of which they attribute to the steep learning curve that comes with app and website integration. Their mission is to make parts of blockchain adoption as simple as pasting a small block of code to create a PayPal "Buy now" button3.
AlgoPay
AlgoPay creates embeddable online payment transaction solutions, done through simple field inputting into a code generator. The solution has compatibility with all major web hosts and website-building platforms.
AlgoCloud
Perhaps the most understandable of Headline's innovations to the average user, AlgoCloud seeks to create an Algorand Ecosystem Dashboard. On it, you'll be able to connect DeFi apps, display NFTs, account analytics, AlgoPay integration and more.4 They even have light and dark mode. Founder Aaron Martinez describes it as "the ultimate all in one solution for interacting on chain".5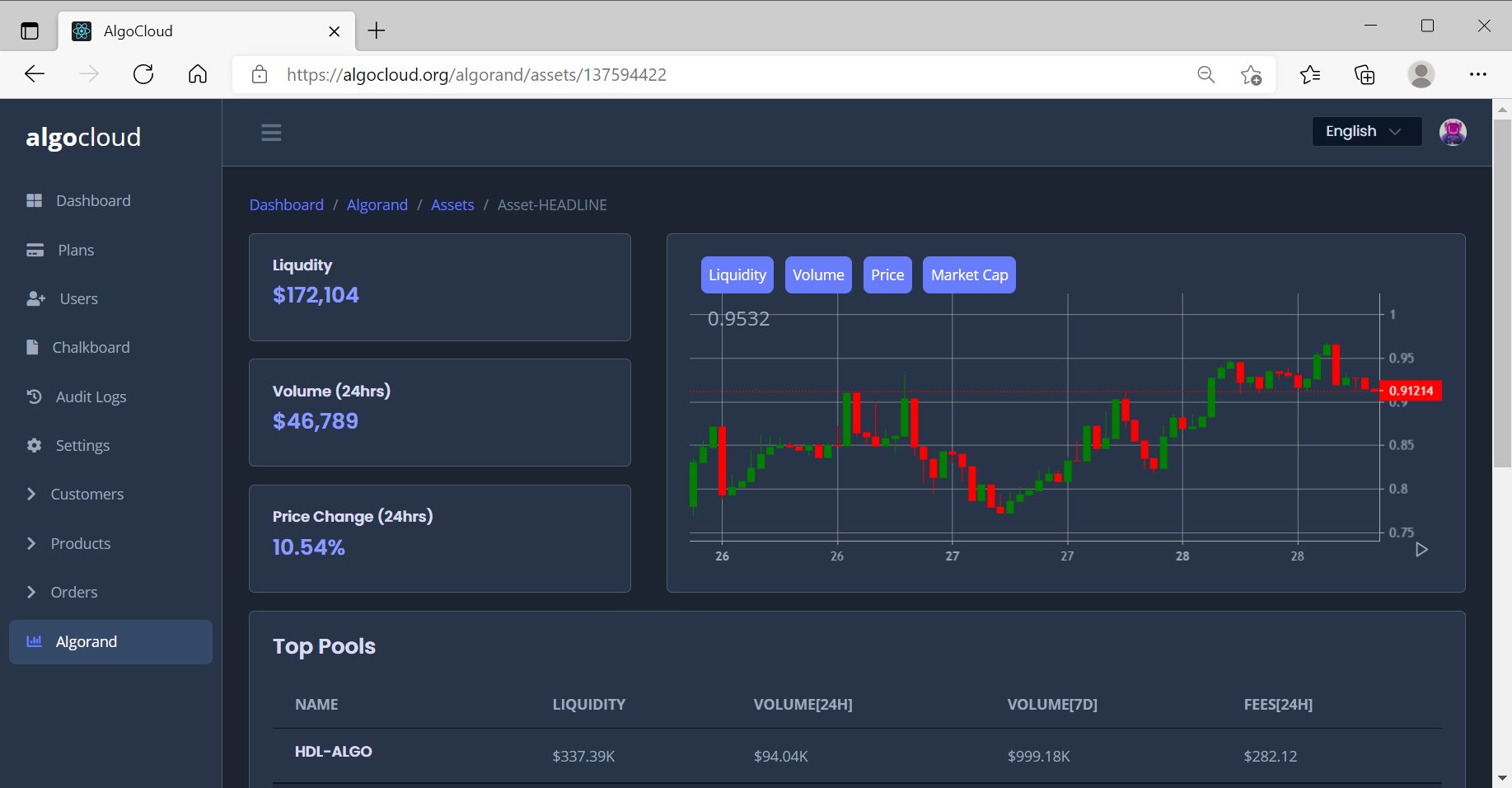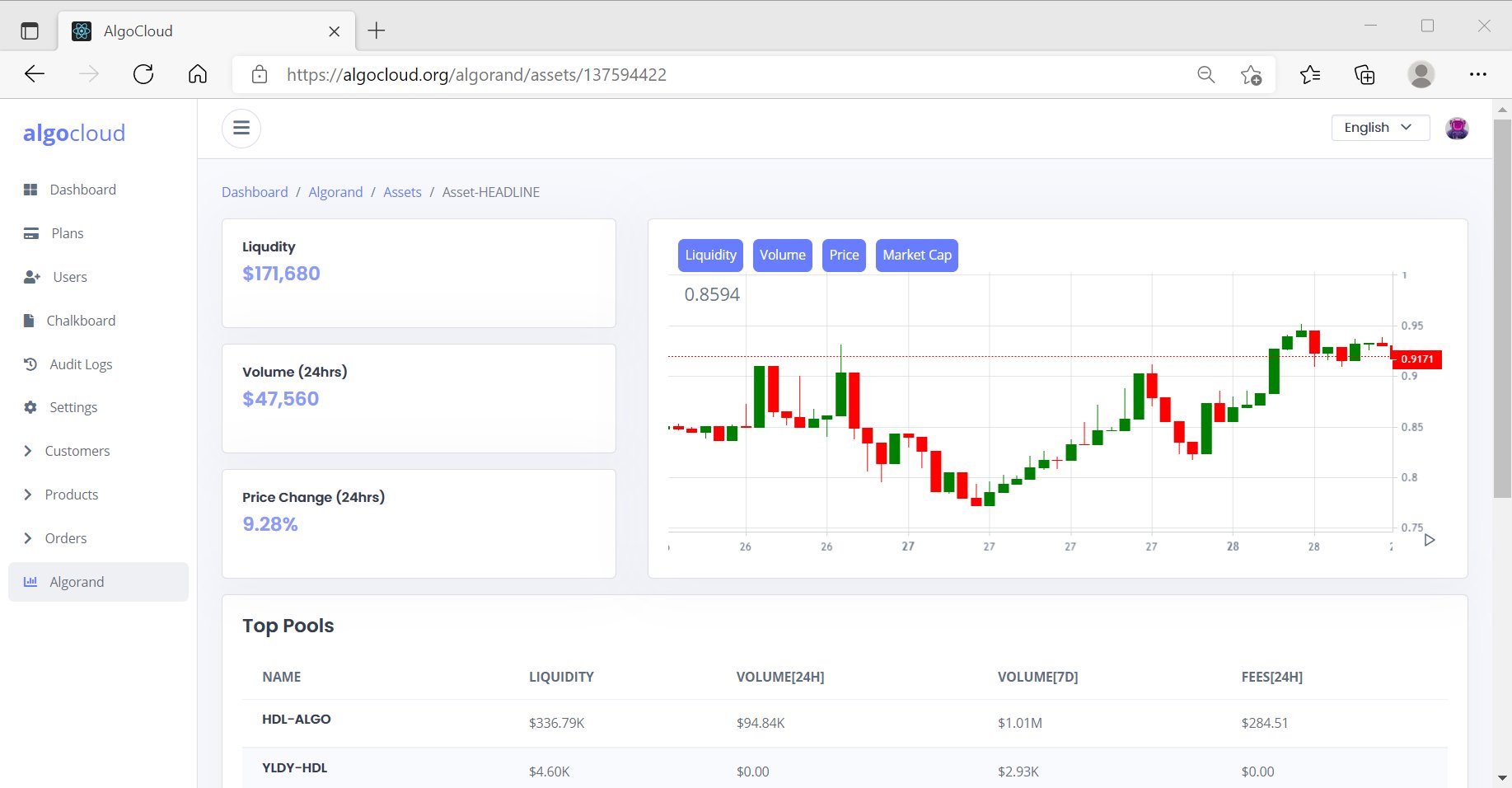 Dispatch Media
Dispatch is Headline's email based periodic newsletter, with the purpose of facilitating effective communication with the core HEADLINE audience.6 The newsletter currently has over 2000 subscribers, and is a great way to stay up to date with what is going on.
Forum
Forum is one of Headline's largeset use cases for $HDL, and is their proof of stake social media platform. It currently requires 100 $HDL and an email to access it, and the platform claims to be an unbiased social network. Whether that's actually possible is up to debate, but it's great to see this goal being kept at the forefront. There are currently 1000 users on FORUM.
Community Funded Staking Program
The goal of this project is to build an open-source staking solution for Algorand ASAs, which will be funded in-house.
Tokenomics
A follow-up post will be created diving deeper into $HDL Tokenomics, as I believe each token's Tokenomics play a huge part of its success. But here are the major facts: The total supply minted is 25 Million, which puts $HDL's current fully diluted market cap at ~$23 million at a price of $0.92. Without diving too deep, there's one extremely important thing to point out here. $HDL's total supply is low, especially when compared to other projects in the Algorand space. A project with a market cap of 25 Million will appreciate in price far quicker than the exact same project with a market cap of 10 billion, because there is far less dilution. This is just an important note to keep in mind when comparing $HDL's price, price action, and value.
Enjoyed Reading? Support The Blog
If you enjoyed the piece and want to read more, consider following me on Twitter @algonautspace to stay updated on new posts or supporting the blog.
Other recent posts I've written include $DEFLY, Algorand's newest key piece and AKITA INU ALGORAND: The Community's Token